Who we are

Founded in Oregon in 1953, Jewett Cameron Company strives to develop and build premium, innovative products in the fencing, pet home, and outdoor living categories. Throughout our organization, we are guided by our defining principles of crafted, stewardship and legacy. These values form the foundation of our organization and guide every aspect of our business. As such, we apply the same care in developing our products as we do investing in our team, our partners, our environment, and in the communities where we live, work and play.
We are…

We are relationships with employees, customers, investors, service providers, manufacturing partners, founders, leaders, community and family . . . the many names of those that have provided and left indelible contributions to our path - to build and grow an organization. We actively engage in the concept of success for all with balanced benefit, for all.



We are opportunity, for product, concept, personal growth and the ability of a collection of ideas to come together to create solutions. We work to solve these problems with structure, design, functionality and service that our customers can count on for many years to come.



We are our past as much as our future, and are committed to the balance of acknowledging those that have provided our foundation, while attracting and celebrating those who will join us in continuing to build our house. We honor that trust as it reminds us continually of our path.



We are where we are from…. Oregon pioneers, respecting our environment, being mindful of maintaining the balance of our physical life and how it intersects with our land, rivers, sky and sea in all that we do.



We are thankful for the treads of the trail that brought people, opportunity, and growth to this part of the world so many years ago. This balance of courage, faith, drive and those who wished to seek opportunity remains in our spirit today, and tomorrow.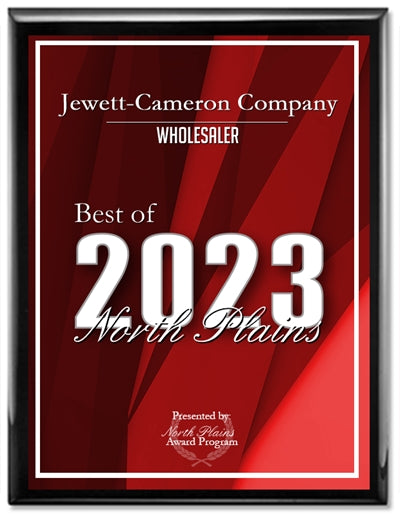 Jewett-Cameron Company Named Wholesaler of the Year
Jewett-Cameron Company has been selected for the 2023 Best of North Plains, Oregon Award in the Wholesaler category by the North Plains Award Program.
Read the press release for more information on this noble award.
Read Press Release